Exciting innovations are taking place in the grass seed industry!  
Do you have an old Clipper 29D or 298D in need of replacing? Q-Sage just released a state-of-the-art compact "easy fit" Air Screen Cleaner that matches the footprint and major spouting setup for the aging Clipper units, allowing for a seamless upgrade to your existing processing line. The new Q-Sage even fits legacy Clipper screens, so no need to order new screens.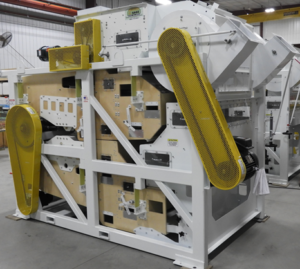 Additional benefits to the Q-SAGE Air Screen Cleaner – Easy Clipper Retrofit for the Clipper 29D or 298D:
Footprint and major spouting will match Clipper unit precisely
Model Match-up/Screen Sizes

Q-SAGE 5×60-42 replaces 29D = 42" Wide x 60" Long
Q-SAGE 5×60-54 replaces 298D = 54" Wide x 60" Long

Matches existing in-plant inlet and good product discharge material flows
Enjoy the benefits of an effective seed cleaning and conditioning upgrade without the hassle of major plant revisions and reworking
This retrofit option has provided great success for those that have made the swap
Easy Access to screens for clean-out/screen changes – 112.5 sq. ft. screen area
Heavy Duty Eccentric Assembly with 1" stroke for better product flow uniformity
Modern Flow Options:
Screen #1 = Fixed Scalp
Screens #2, 3, & 4 = Scalp or Sift
Screen #5 = Fixed Sift
Screens #1 & 2 = Top Shoe – Parallel Flow (Split Flow Scalp, Scalp over Sift – or – Scalp over Scalp)
Screen #3 = Bottom Shoe (Return Screen) Scalp or Sift
Screens #4 & 5 = Bottom Shoe – Parallel Flow (2-way Split Flow Sift – or – Scalp over Sift
Come see the Q-SAGE Air Screen Cleaner –Easy Clipper Retrofit for yourself at our Willamette Valley Ag Expo booths. Our knowledgeable sales associates will be there to help answer all your questions. Unable to make the show? We'll come to you for a site visit of your facility and to discuss renovation options.
 Linn County Fair & Expo Center
Albany, Oregon
booth, #232 &234
November 14th, 15th, 16th, 2017
Tuesday 14th 9am-6pm | Wednesday 15th 10am-9pm | Thursday 16th 10am-5pm