ROBOTIC PALLETIZING BY HAMER-FISCHBEIN

A Leader in Packaging Automation
Hamer-Fischbein Robotic Palletizing lines are cost effective solutions for a wide variety of bagging applications. The durable stack box is designed with improved hinging, additional pneumatics and heavier side wall, all of which can stand the test of time in high demand production plants. With single and dual stacking options available, choosing the best application for your packaging area and production output has never been easier.
Semi-Automatic Robotic Palletizer Module (RPM):
The Hamer RPM Robotic Palletizer keeps production numbers at a maximum and is easy to use, providing 80% of palletizing automation at a lower cost than the fully automatic systems.
Semi-Automatic RPM may include:
Heavy duty in-feed conveyors
1 or 3 pallet stack
MPL 100 or MPL 160 robotic arm
Complete integration and controls
Hamer exclusive EasyPicTM operator software pallet configuration
MaxPicTM pallet configuration
Industrial design End Of Arm Tooling
ANSI/RIA safety guard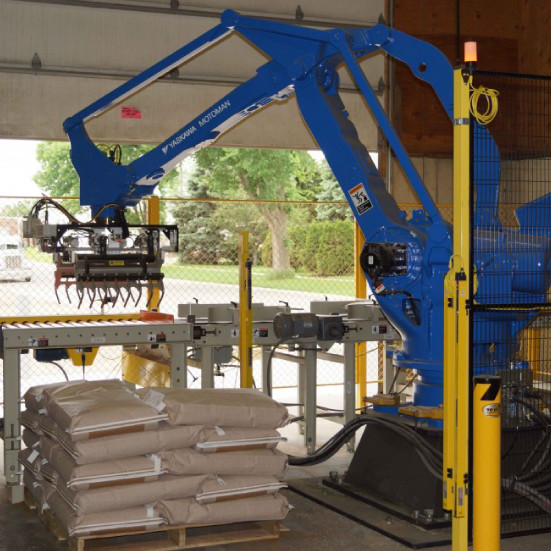 RPM BasicTM, Entry Level Robotic Palletizer:
This model offers semi-automatic and fully automatic palletizing and is ideal for lower production demands offering 16-18 bags per minute, with a max weight of 60 pounds.
RPM Basic, Entry Level Palletizer System may include:
Semi-automatic configuration with 1 or 2 pallet stack
Fully automatic configuration with power conveyors
MPL 160II, 5 axis, 100KG robotic arm
DX200 Robot Controller
Robot mounting base plate/riser
28" robot riser
Hamer exclusive EasyPicTM operator software pallet configuration
MaxPicTM pallet configuration
Industrial design End Of Arm Tooling
ANSI/RIA safety protocols
Additional Specs:
25 KG End of Arm Tooling
CDLR Speeds: 60 FPM
Pass Height: Automated systems use a standard 18" CDLR Top of Roller pass height.
Electrical: 460/3PH/60Hz
Air: Clean/Dry Air Required